Prepare For Rainy Days with Shell Outerwear
When the skies open up, rain pours down and the earth is transformed into a giant mud puddle – this is of course when your little ones find it the most fun to play outside. These are the days when kids clothes are really put to the test, therefore you need to make sure that your kids outerwear is ready for the challenge!
Now that we are saying farewell to our much-loved rainwear to meet our strict sustainability requirements, we know that you might be wondering where to turn to for your little ones' rainy day adventure clothing! But don't worry, we're here to tell you that our Shell Outerwear truly stands up to the test, even more so than our beloved rainwear, and here's how…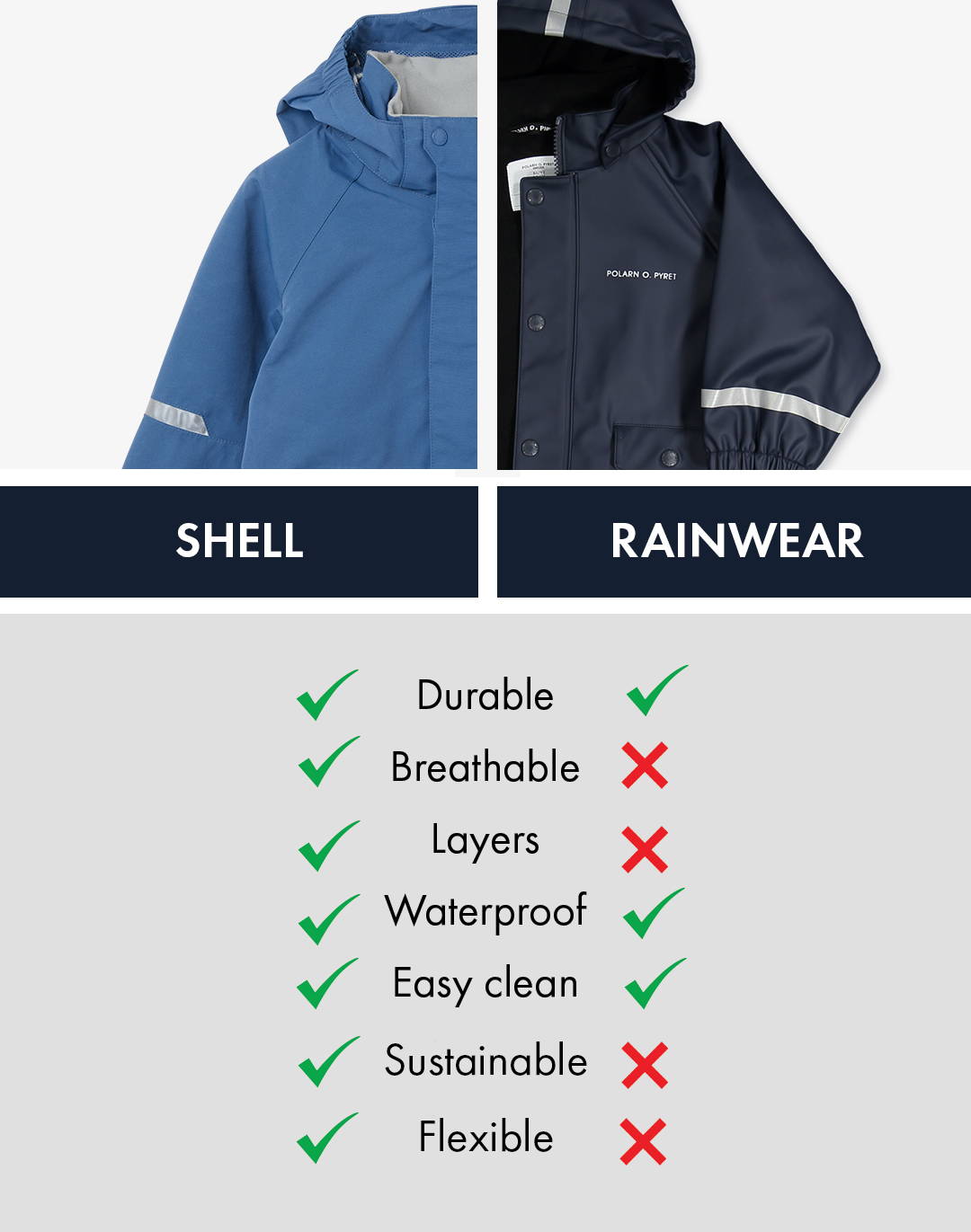 Our Shell garments have been expertly designed for over 45 years, with features including:
Waterproof to 12,000mm with fully taped seams - very waterproof for all day play in torrential rain and snow
Connects to our Fleece Jackets, Gilets and Puffer Jackets to create a 3-in-1, all weather solution
Abrasion resistance >5,000 - tough enough to withstand years & years of outdoor play
Breathability >7,000 to ensure active children are comfortable
BIONIC-FINISH® ECO water repellence, an eco-friendly technology free from PFCs
Detachable hood with poppers for enhanced safety
Premium quality YKK zip with storm flap and chin guard
Pre-shaped arms and legs for freedom of movement
Striped mesh lining
Adjustable hem and sleeve cuffs
Soft micro fleece around collar
Two zipped front pockets
Kids Shell Jackets & Trousers
Polarn O. Pyret shell range includes wind and breathable waterproof jackets and trousers with taped seams in durable materials that can breathe. Everything your child needs to stay happy, warm and dry whilst playing out in rainy conditions.
Our shell garments have a waterproof rating of over 12,000 mm. Kids waterproof clothing is rated by using a water column to indicate how much water pressure a garment can withstand before it starts to leak. A garment with a waterproof rating of at least 2,000 mm can be called waterproof if it has taped seams. A good functional garment that breathes should be able to withstand a water column of at least 10,000 mm, so our Shell garments pass the test! Our waterproofing process is PFC free since 2015, so you can be confident that your children wear their PO.P Outerwear without unpleasant chemicals being used in the production of our clothes.
Our kids waterproof trousers have detachable and adjustable braces and pre-bent legs for increased mobility. The waist and ends of the legs are adjustable, and the elastic foot straps make sure the trousers stay in place and don't ride up. The foot straps are held in place with buttons and can be easily replaced if needed. Our waterproof shell trousers have a zip in the side to make dressing and undressing as quick and simple as possible. 3M reflectors provide 360-degree visibility in low lighting conditions.

Taking Care Of Your Shell Outerwear
You should wash your shell garments inside out with zips and Velcro tabs closed to protect reflectors and trim. Shell garments can be dried in a drying cabinet or airing cupboard on low temperature settings. Kids waterproof shell garments should not be tumble dried. You should wipe down this type of clothing with a moist cloth and ensure they aren't machine washed too often. Washing machines impair a fabric's ability to repel dirt and water.
After a few washes, you may want to re-waterproof shell garments to maintain water resistance. To know if your Shell needs to re-impregnated, you can sprinkle some water on to it. If the water droplets roll off the fabric the impregnation is still intact. If the water droplets get stuck and wet the fabric, it is time to re-impregnate. For the impregnation to last as long as possible from the beginning, it is important that the item is dried in warm sunlight or in an airing cupboard afterwards.
We recommend our customers to use Nikwax or Green Guard re-impregnation spray. This since these two are PFC–free options that we have tested on our waterproofs for kids. Further we recommend our customers to follow the instructions given on the bottle to ensure optimum results.