Our vision is to ensure all PO.P clothes last at least 3 children.
And with 90% of emissions in the clothing industry coming from production and transportation, it's never been more important to buy less new and keep our kids' clothes in circulation for longer. That's why we are growing our second hand collection.
We're thrilled to announce we've extended our PO.P Second Hand servce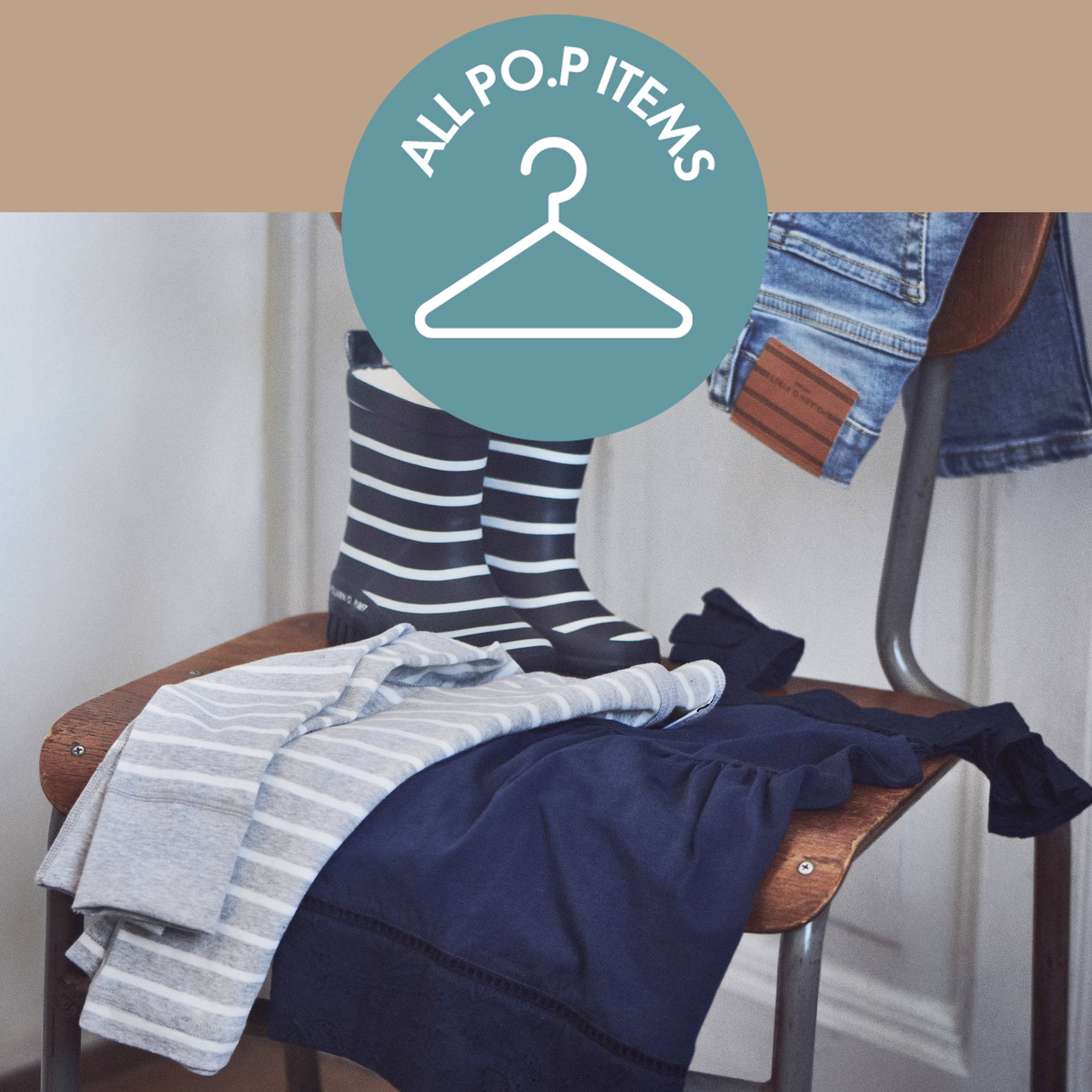 We're now accepting anything and everything for trade-in; from socks to swimwear, no matter where you bought it from or how old it is. As long as it's functional and not heavily stained, we'll find new loving homes for your pre-loved PO.P. We'll pay you in PO.P vouchers to save on a future purchase.
Trade-in your pre-loved PO.P with us
---
ZERO HASSLE
No photos or valuations

ZERO HAGGLE
Set pricing that's clear and fair

ZERO COST
Free postage for trade-ins

NO WORRIES
Reliable service and communication
---
Simple steps

Gather your outgrown PO.P items you'd like to trade in

Log into our easy to use portal, select and confirm the items you would like to trade in
Send us your pre-loved items with our FREE returns service

Visit our online portal and simply select all the items you'd like to trade-in from your purchase history. No purchase history? No worries - we accept all PO.P items, no matter where you originally bought it. You can add multiple items to your trade in.

Download the FREE shipping label, apply postage to any bag you already have at home, and pop it in the post.

Voucher heading your way. As soon as we receive and verify your trade-in, we'll issue a PO.P voucher code to use online with us.

Gather your outgrown PO.P items you'd like to trade in

Log into our easy to use portal, select and confirm the items you would like to trade in
Send us your pre-loved items with our FREE returns service
Super easy, click-of-a-button trade-in
Commence new trade-in
Sign-in or sign up for a store account
For the best experience sign in to your store account first

View and select items for trade-in from your full order history

Don't have an account? Sign up to link all of your previous purchases together*
*new account and previous orders must share the same email address
Don't have an account?
Look up previous purchases using the order number found in your original order confirmation email.
Our Second Hand items sell super quickly...
Second hand items that are still eligible for free returns if the item isn't suitable or doesn't fit
How much credit can I expect to get for my used PO.P?
You will receive a fixed amount of credit depending on the item you return. Our trade-in price list can be viewed here
Can I use my voucher on anything?
Trade-in credit can be used to buy both New, Sale, and Second Hand PO.P items. Vouchers cannot be used in conjunction with our 3 for 2 offer or with discount codes but can be used during PO.P events.
T&C's:
Vouchers issued via email can only be redeemed online

Vouchers must be used in a single transaction and only one voucher per transaction

Vouchers cannot be used to purchase gift cards

Vouchers can be used on 2nd hand items

Vouchers can be used on sale items

Vouchers expire after 12 months of being issued
What happens to clothes that can't be resold?
It's our aim is to keep PO.P product out of landfill – and to reuse as much as possible. So, we will hold on to anything that can't be resold; and once we have enough volume, we will upcycle, recycle, downcycle, disassemble, compost or donate depending on the product type.
Do you really take back everything?
Yes! We buy back any PO.P item regardless of how old the item is or where it was originally purchased.
Why should I trade-in with you instead of selling it myself on eBay?
We love that our clothing is currently being passed along to new loving owners through online marketplaces. However, PO.P Second Hand was launched to make the process of extending the lifespan of our garments as easy as possible for our customers. With our scheme, you can return your items to us free of charge, there is no photography required, and there are no selling fees. Simply pop your items back to us, and we will sort the rest and issue your voucher!
How did you determine the trade-in price?
After research of other major re-sale platforms we have a determined a price that fits within these markets. We have also taken into consideration our free postage, free returns and the hassle free process of PO.P second hand.
Ozone cleaning is a sustainable laundry disinfection system which uses safe O3 gas at low temperatures, harnessing the natural power of ozone to kill bacteria, moulds, yeasts, and viruses. Ozone carries an electrical and chemical charge, which neutralises bacteria when injected into water during a wash cycle.